WHAT THE HELL IS Siggraph?
   So what is Siggraph? Their charter says they are a Professional Chapter of the Association for Computing Machinery's Special Interest Group in Computer Graphics. In other words, geeks. They have chapters in various cities, Los Angeles being one of them, and once a year they have a huge convention to revel in their geekiness and all it has wrought. And let me tell you it's a good time.
   I thought that it would be a group of hard core computer people talking about hard core things I wouldn't understand. Well, sure there was a lot of that. However, there was also a studio with all the latest 3D software to play with and mega computers to do it with. Of special interest was the 3D clay sculpting program where you used and pen-like mouse tool to carve the clay. The amazing thing was that you could actually feel the resistance of the clay through the mouse. There was also a 3D printer that used a waxy, yet sturdy substance to slowly build a model of whatever you had built on the computer software. Geeks obviously have the best toys.
   The main focus of the convention is to give their members a leg up on the latest computer/digital products and advances. It meets this goal via a convention floor full of venders and symposiums on everything from the basics of computer graphics images to the process with which the eye views objects in 3D so the computer software can be built to mimic the process. I was surprised at the number of symposiums that were friendly to my limited knowledge of all things digital. I took the Introduction to CGI class (see WHAT THE HELL IS CGI?), which was marked as a low beginner class, and was surprised at how easy it was to understand CGI on a beginning basis. This was mostly due to the highly educated speaker and the great visual aids.
   On the show floor, the big thing was 3D and motion capture. One poor dancer was bound up in a motion capture suit, which relayed her movements to a cartoon like character on a computer screen, and danced for hours with a smile on her face for the conventioneers. There were also 3D cameras and new computers built to handle the processing all over the place. All the familiar software makers were there, like Adobe, but with software that went so far beyond my Photoshop it was scary.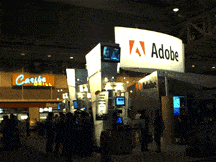 Another big draw at the convention was give aways. I got an adorable Kermit the Frog ¨ for sitting in on a 15 minute demo of a software package that allowed you to create your own computer game. I ended up sitting through two more and taking the free software. It is actually pretty cool.
The Art Gallery
   Also of incredible interest was the Art Gallery. The art pieces exhibited are chosen by a committee of independent artists and University folk. The exhibit included over 70 works that included animation, 2D and 3D, sculpture, highly interactive pieces, web based art, art that included living things, art that talked and moved, and art that required human presence to fulfill itself. The works were created by 126 artists and represented 17 countries.
Text rain, shown here, was an interactive piece where viewers stood in front of a plain screen where text would rain down. You could hold the raining letters up on your head and arms, or legs if you were very flexible and form words or phrases depending on your patience and skill. Or you could just let random letters float on your body. Created by Camille Utterback of New York University, she calls it a "…playful, interactive installation that blurs the boundary between the familiar and the magical."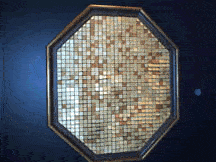 Possibly the piece that most attracted people to interact with it was this Wooden Mirror designed by Daniel Rozin of New York University. The "essence of the piece is the notion of inflicting digital order on a material that is as analog as it gets: wood." Using a camera in the center of the piece and linking a computer to it, the wood "reflects" any object put before it by manipulating the tiles of wood to tilt and reflect light in such a was as to make a shape appear out of the contrast. The wood portion of the piece was built by hand.
   The installation shown here and below, Micro Friendship, was perhaps the most interactive and organic of the exhibits. Using a table, flat display monitor, a plate full or dirt and micro organisims (a 2D stage the artist calls it), a micro camera, and a rod to push the dirt around, the set up allowed people to see and interact with small beings that are normally below our field of vision. Independent artist Yasushi Matoba and NEC Corporation's Hiroshi Matoba had the goal of making two worlds of different scales seem equal. I'm not sure if the bugs enjoyed the interaction, but the people sure did.
   Other interesting things in the Art Gallery were some really cool looking VR games and a fine selection of bean bag chairs you could kick back in and watch the large screen projections of other people playing.
The Electronic Theater
   This is possibly the most fun you can have with your clothes on. The Electronic Theater showed short films ranging from ego stroking use of animation software to side splitting parody of current film and everything in between.
   The highlight of the evening was made by Robert Rioux called "Block Wars." Using animated legos he reconstructed the pivitol scene from "The Empire Strikes Back" where Darth Vader tells Luke that they are related. Only in this case, and with very high voice, Darth looks at Luke and his whimpy ways and declares, "no, on second thought, you're not my son" and watches casually as Luke plunges down the shaft.
   Also of note was heart wrenching piece by Josselin Mahot called "Protest." Shot in black and white we see a real city with sky scrapers jammed tightly together and from the top of each one an elephant has jumped in protest of its current plight. It was fabulous and I wish that movie theaters still showed shorts before the main feature instead of LA Times ads.
   There were also shorts that can only be considered ads for film and their effects houses. Most notable were clips from "Hollow Man" and "The Perfect Storm." And Pixar previewed what will surely be its bid for the Academy Award ¨ animated shorts this year, "For the Birds" that was even more delightful than "Geri's Game." I won't ruin it though as this is one of the few of the offerings that the general public will be privy to.
   Over all, Siggraph was a blast even for the lay person. It will be in Los Angeles next year and I highly recommend basic tickets so you can see the Art Gallery and Electronic Theater. Their site is at www.siggraph.org